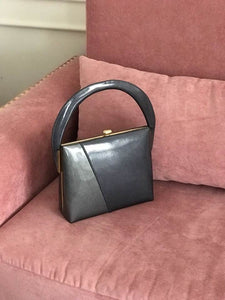 Ila of California: Beautiful Purse from 1970s. Shiny patent leather in a two toned gray. Gold hardware and interior. Two interior pockets. Architecturally structured. 
Measurements: height 36 cm (from bottom to top of handle), width 26 cm, depth 8,5. 
Condition: Excellent. Please keep in mind the items sold on "Vintage Drama" due to age and previous wear may have slight imperfections, please appreciate Vintage items for their uniqueness, character and history. 
Note: For more details and pictures please do not hesitate to contact me via email. I will help you with pleasure.